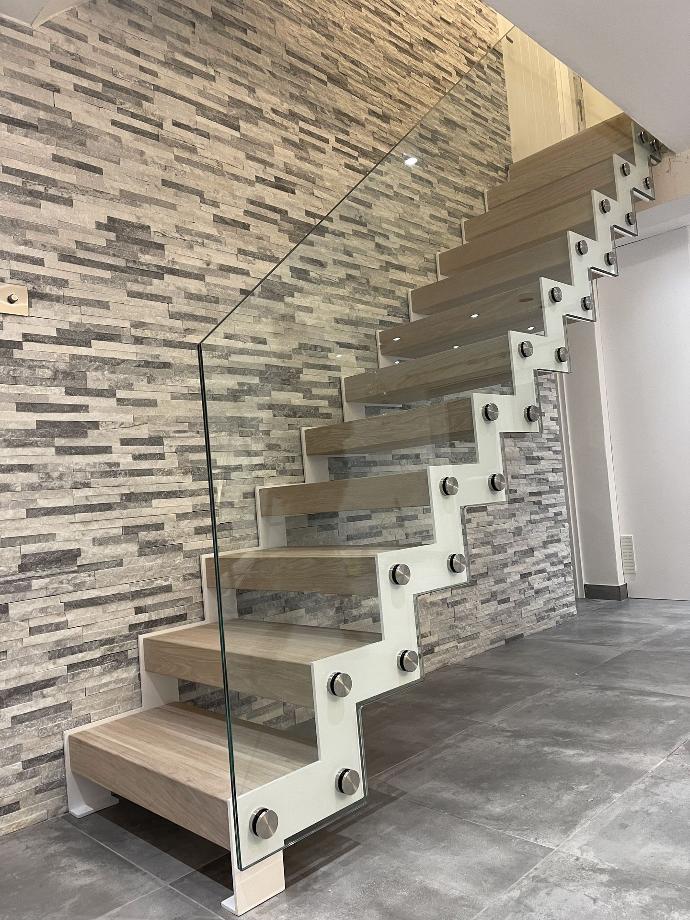 At Ovoms, we merge innovative design, superior craftsmanship, and UK's finest materials to create architectural masterpieces that redefine interiors. Unleash the potential of your home or office with our cutting-edge Zigzag Staircases, a design that masterfully combines functionality with a daring aesthetic appeal.
The Zigzag Staircase, also known as 'Z-Shape' or 'Sawtooth' staircase, transforms your everyday route between floors into a visual delight. Characterised by its distinctive zigzag pattern, this staircase design brings a unique blend of dynamism and modern sophistication. The alternating series of treads create a striking visual rhythm, rendering a powerful architectural statement in any space.
Engineered for durability, our Zigzag Staircases are fabricated from high-quality materials, ensuring long-lasting strength and stability. Our all-in-one service includes bespoke staircase design, meticulous site survey, precise fabrication, and expert installation, fulfilling all your staircase needs under one roof.
Experience the unique blend of structural integrity, design innovation, and elegant aesthetics with Ovoms' Zigzag Staircases – a bold step towards transforming your interior space.
four unique features of Zigzag Staircases that distinguish them from other staircase designs:
Distinctive Design

The defining feature of a Zigzag Staircase is its unique 'Z-Shape' pattern. The alternating treads create a zigzag pattern that is both visually striking and architecturally significant. This unique design brings an element of dynamism and modern sophistication, setting it apart from traditional staircase designs.

Optimal Space Utilisation

Zigzag Staircases are not just about aesthetics; they're also highly practical. Their design allows for efficient space utilisation, making them an excellent choice for homes or offices where space is at a premium. While being compact, they don't compromise on the comfort of ascent or descent.

Structural Transparency

Unlike traditional staircases that can visually divide a room, Zigzag Staircases offer a level of transparency that allows a seamless visual connection between floors. This can contribute to a feeling of spaciousness and light, enhancing the openness of your interiors.

Customisable Design

Zigzag Staircases are highly versatile and can be tailored to suit a range of interior styles. They can be designed to be minimal and sleek for modern spaces, or made from warm, rich materials for a more traditional or industrial aesthetic. The choice of materials, from metal to wood, and the style of railings and balustrades offer numerous possibilities for personalisation.

With these unique features, a Zigzag Staircase from Ovoms provides not only a way to traverse floors but also a design statement that can transform the aesthetic appeal of your space.
Experience the Ease of Creating Your Zigzag Staircase with Ovoms Online
Crafting your bespoke Zigzag Staircase is just a few clicks away with Ovoms. We provide an intuitive online shopping experience that enables you to fully customise your staircase, all from the comfort of your home. Starting at £6,999, you have the freedom to shape your staircase to mirror your unique style and space requirements.
Begin by choosing the Zigzag model from our diverse range, which also includes the Floating, Central Spine, and Closed Treads staircases. Next, select the shape that fits your interior layout, with options for straight, 1-turn, or 2-turn designs.
Lastly, decide on installation. Opt for our expert team to handle the process or choose to arrange installation yourself. The flexibility is yours.
We're proud to serve customers across the entire UK. From London to Birmingham, Manchester to Leeds, Sheffield to Bradford, Liverpool to Newcastle, we've got you covered. And that's not all. Whether you're in Nottingham, Sheffield, Bristol, Glasgow, Leicester, Edinburgh, or Cardiff, we deliver our premium staircases right to your doorstep. We're also present in Coventry, Hull, Belfast, Stoke-on-Trent, Wolverhampton, Derby, Southampton, Brighton, Plymouth, and more. However, our coverage isn't limited to these cities, we cater to customers in many other locations across the UK.
With Ovoms, your perfect Zigzag Staircase is just a few steps away. Embark on your design journey with us today.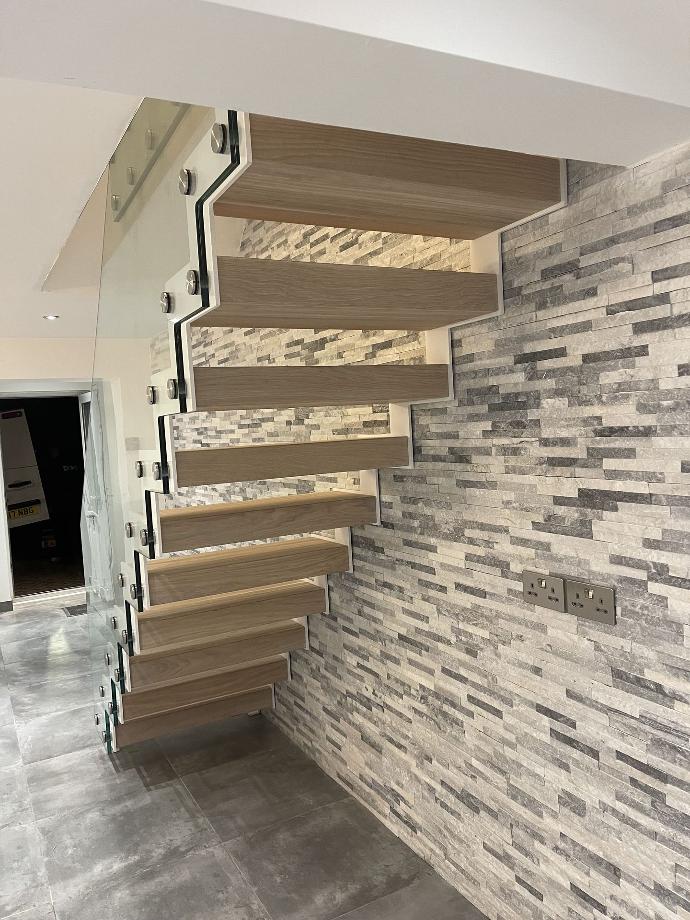 Discover the Power of Design in Our Portfolio
Unleash the potential of your space with Ovoms' Zigzag Staircases by exploring our rich portfolio. Our collection provides a comprehensive glimpse into our diverse range of materials and cutting-edge designs. Marvel at the transformational power of our Zigzag Staircases and see how they can enhance the aesthetic appeal of your space.
From the modern simplicity of metal to the organic warmth of wood, each material we use adds a unique touch to the finished product. Each image in our portfolio illustrates the precise craftsmanship, meticulous attention to detail, and superior quality that are synonymous with the Ovoms name.
Imagine how these designs could redefine your interiors, making a powerful architectural statement while offering a functional way to traverse between floors. Gain inspiration and discover the potential of your space with an Ovoms Zigzag Staircase.
Should you have any questions about our products, or if you're looking for expert guidance on design and installation, our team is just a call or email away. At Ovoms, we're here to help you take the next step towards your dream staircase. Begin your design journey by exploring our portfolio today.
Previous
Next