Closed Treads Staircase
£ 6,999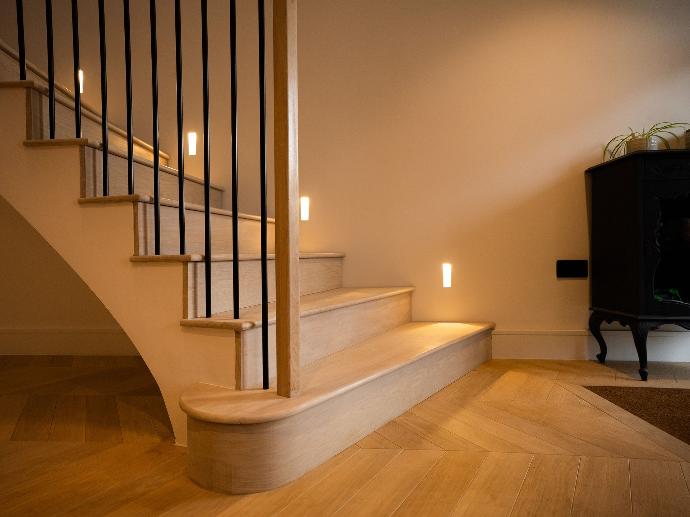 At Ovoms, we are passionate about fusing innovative design, exceptional craftsmanship, and the finest materials the UK has to offer to create exquisite staircases. One of our signature designs is the Closed Treads Staircase, a beautiful blend of timeless tradition and modern elegance.
Closed Treads Staircases, or fully stepped staircases, provide the perfect balance of privacy, safety, and noise reduction. This design features treads that extend from edge to edge, eliminating any open space between steps. Not only does this ensure a quieter ascent and descent, but it also offers an enhanced sense of solidity and security.
Using high-quality materials, our Closed Treads Staircases are meticulously fabricated for long-lasting strength and stability. With Ovoms' all-in-one service, we manage every step of your staircase journey, from bespoke design and accurate site survey to precise fabrication and expert installation.
Experience the perfect fusion of functionality and aesthetic appeal with Ovoms' Closed Treads Staircases. Transform your interiors with a staircase that echoes the timeless elegance of tradition while embracing the clean lines of modern design.


These unique features make Closed Treads Staircases a versatile and practical choice for a wide range of homes and commercial spaces, offering a unique blend of safety, comfort, and aesthetic appeal:
Enhanced Safety

One of the main features of Closed Treads Staircases is their increased safety. By eliminating gaps between steps, these staircases reduce the risk of small objects, pets, or children's feet slipping through. This makes them an excellent choice for households with young children or pets.

Noise Reduction

Closed Treads Staircases are known for their noise-dampening capabilities. Since the treads are fully closed, there's less echo produced when walking up or down the stairs, leading to quieter use. This is especially beneficial in busy homes or office environments where noise reduction is a priority.

Visual Solidity



With their full steps, Closed Treads Staircases create a visually solid and robust structure in your interior space. This can add to the perceived strength and durability of the staircase, offering a sense of security and permanence.

Versatility in Design

Despite their traditional concept, Closed Treads Staircases are incredibly versatile in design. They can be customised to suit a variety of styles, from classic to contemporary. The treads can be made from a range of materials, such as wood, stone or glass, and finished to match any interior colour scheme.

Craft Your Perfect Closed Treads Staircase with Ovoms Online
Designing your bespoke Closed Treads Staircase is as simple as a few clicks with Ovoms. We provide an intuitive online platform where you can customise your staircase according to your unique aesthetic preferences and practical needs. Starting at just £6,999, you have the flexibility to create a staircase that truly reflects your vision.
Begin by selecting the Closed Treads model from our diverse range of staircase styles, which also includes Floating, Central Spine, and Zigzag options. Then, decide on the shape that suits your space best, with options for a straight, 1-turn, or 2-turn design.
To complete your order, choose whether you'd like our team of experts to install your staircase or if you'd prefer to arrange installation yourself. With Ovoms, you have the flexibility to choose what suits you best.
We proudly cater to customers throughout the UK. From London to Birmingham, Manchester to Leeds, Sheffield to Bradford, Liverpool to Newcastle, and everywhere in between, we are here for you. That includes Nottingham, Sheffield, Bristol, Glasgow, Leicester, Edinburgh, Cardiff, Coventry, Hull, Belfast, Stoke-on-Trent, Wolverhampton, Derby, Southampton, Brighton, Plymouth, Northampton, Reading, Luton, Bolton, and Norwich, among others. But our reach doesn't end here, we serve customers in many more locations across the UK.
Design your dream Closed Treads Staircase with Ovoms today – the ultimate fusion of tradition, elegance, and modern design.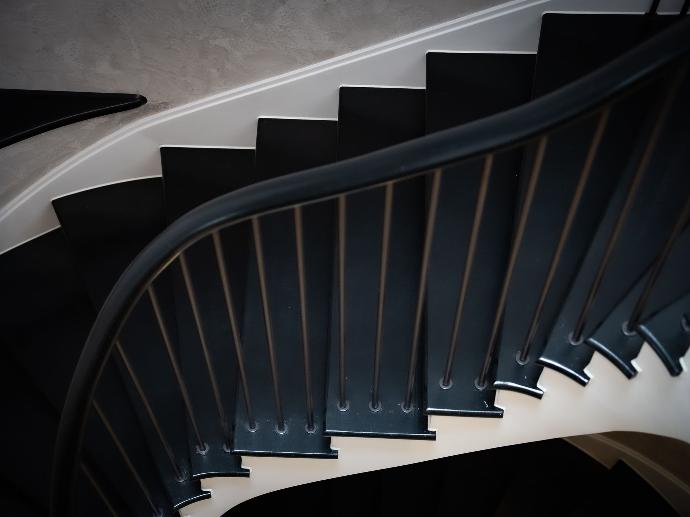 Explore Your Potential with Our Portfolio
Dive into our portfolio to see the transformative power of Ovoms' Closed Treads Staircases. Our portfolio showcases our extensive range of materials, expert craftsmanship, and the final look of our installations. Witness how our closed treads staircases enhance the ambience of a variety of interiors, bringing an exquisite blend of function and aesthetic appeal to each space.
With materials ranging from the timeless appeal of wood to the modern simplicity of metal, there's something to suit every style. Each portfolio image is a testament to our commitment to superior quality and detailed perfection.
Envision the transformative potential of a Closed Treads Staircase in your own space. Gain inspiration, discover your preferred materials, and imagine the final look of your chosen staircase. If you have any questions about our products, need expert advice, or require further assistance, do not hesitate to contact us. Our team is always on hand to help guide you on your journey to the perfect staircase.
Start your design journey by exploring our portfolio today. At Ovoms, we're committed to helping you take the next step towards your dream staircase.