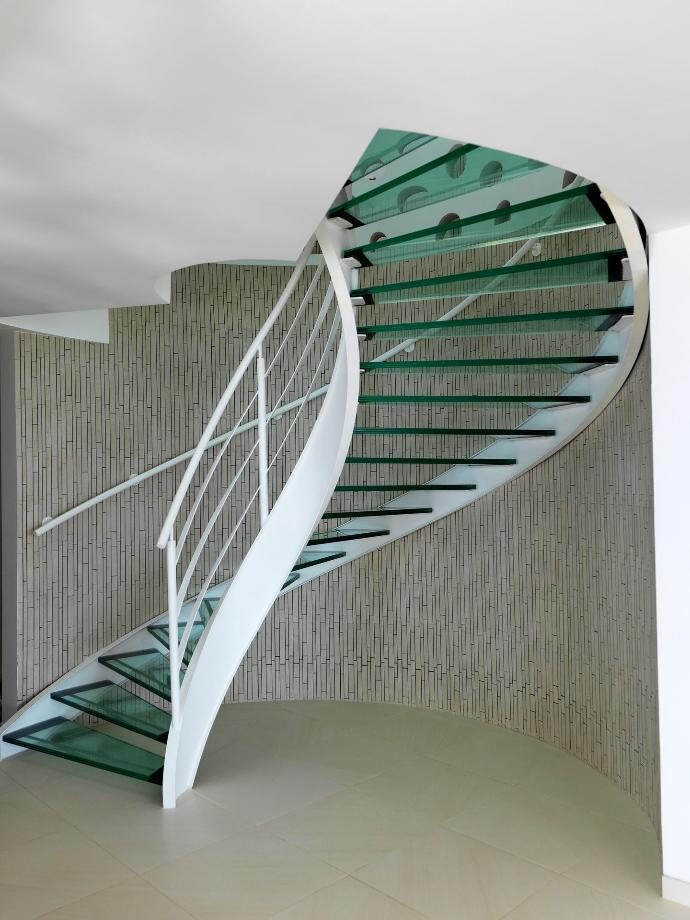 At Ovoms, we master the art of transforming interiors into luxurious spaces with our stunning glass staircases. As a contemporary alternative to traditional staircase designs, our glass staircases are the epitome of architectural elegance. They open up your space, creating an airy and light-filled environment, while making a stunning design statement.
A glass staircase is an assembly where the treads, risers or both are made of glass, supported by a robust framework of metal or wood. This allows light to filter through the stairs, enhancing the illusion of spaciousness and creating an environment that feels bright, open, and modern. The sleek transparency of the glass combined with the strength of the supporting structure results in a staircase that is as secure as it is stylish.
Our team of professionals, with their extensive experience in site surveying, design, fabrication, and installation, brings your vision to life. We ensure every glass staircase we build is not only a design marvel but also a perfect fit for your space.
Explore the sophisticated elegance of Ovoms' glass staircases and transform your interiors into a light-filled haven of luxury.


The Brilliance of Glass Staircases from Ovoms
Our glass staircases offer the unique blend of functionality and aesthetics, where the cool transparency of glass meets the warm touch of expert craftsmanship.
Unleashing the Elegance of Transparency
A glass staircase from Ovoms isn't just a practical addition to your home or office; it's a statement of style. The ethereal transparency of glass opens up your space, creating an airy atmosphere that's both modern and timeless. Be it a minimalist home or a vibrant commercial space, a glass staircase adds a dash of sophistication that's hard to ignore.
Material and Design Choices
Glass staircases come with a variety of design options. You can choose between clear or frosted glass, round or square glass panels, and even incorporate glass into other staircase styles like the floating staircase or central spine staircase. The framework supporting the glass can be made of polished steel for a sleek look, or wooden beams for a touch of classic elegance.
Precision Crafted to Perfection
At Ovoms, we don't compromise on quality. Our glass staircases are crafted with the utmost precision, ensuring that every pane fits perfectly into the structure. During the design phase, our site survey ensures we understand the intricacies of your space, allowing us to create a staircase that integrates seamlessly with your architecture.
Installation with Excellence
The installation of a glass staircase requires skilled hands and precise techniques. Our expert installers are highly trained to ensure that your glass staircase is installed with the greatest care, ensuring its stability and longevity.
Light Up Your Space with Ovoms
Ovoms' glass staircases are more than a functional feature; they are a design element that brings light, openness, and a touch of modern sophistication to any space. Experience the elegance of a glass staircase from Ovoms and illuminate your interiors with the captivating charm of transparency.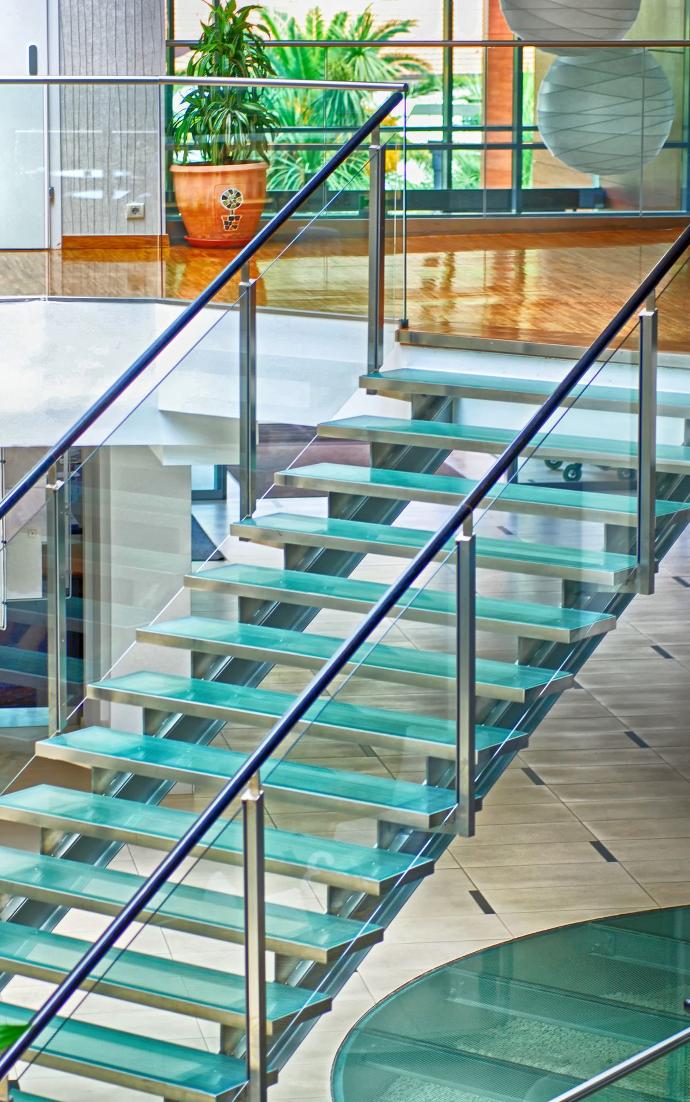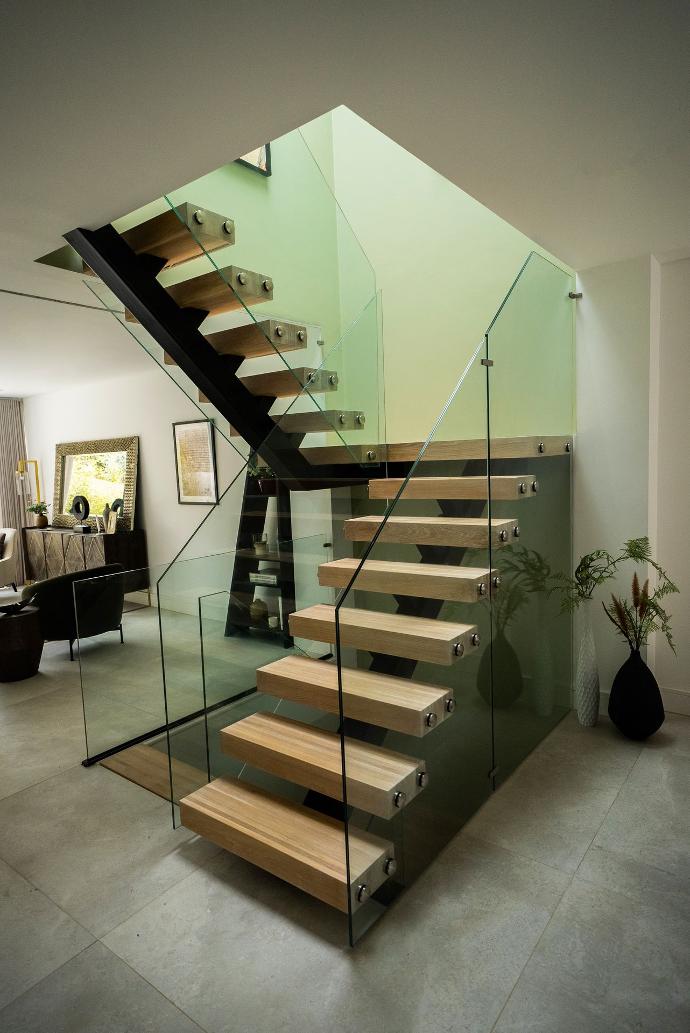 Discover the Ovoms Difference
While our glass staircases are a testament to modern design and sophisticated elegance, they are but one of the remarkable offerings from Ovoms. From the flexibility of Bespoke Staircases to the unique aesthetics of Floating Staircases, the robust appeal of Central Spine Staircases, the dynamic style of Zigzag Staircases, or the traditional sophistication of Closed Treads Staircases, we have a design to meet every taste and requirement.
Investing in a staircase from Ovoms is investing in a timeless piece of architectural art. With starting prices as competitive as £5,999, we provide an array of choices that balance style, quality, and budget.
We are a UK-based company with extensive coverage across the country. Our services extend to London, Birmingham, Manchester, Liverpool, Leeds, Sheffield, Bristol, Glasgow, Leicester, Edinburgh, Cardiff, Coventry, Nottingham, Kingston upon Hull, Bradford, Stoke-on-Trent, Wolverhampton, Southampton, Plymouth, Reading, and Derby. And these are just a few of the cities we cover!
At Ovoms, we don't just build staircases; we create spaces that inspire and transform. Discover the Ovoms difference today, and let us elevate your interiors with our stunning staircase designs.