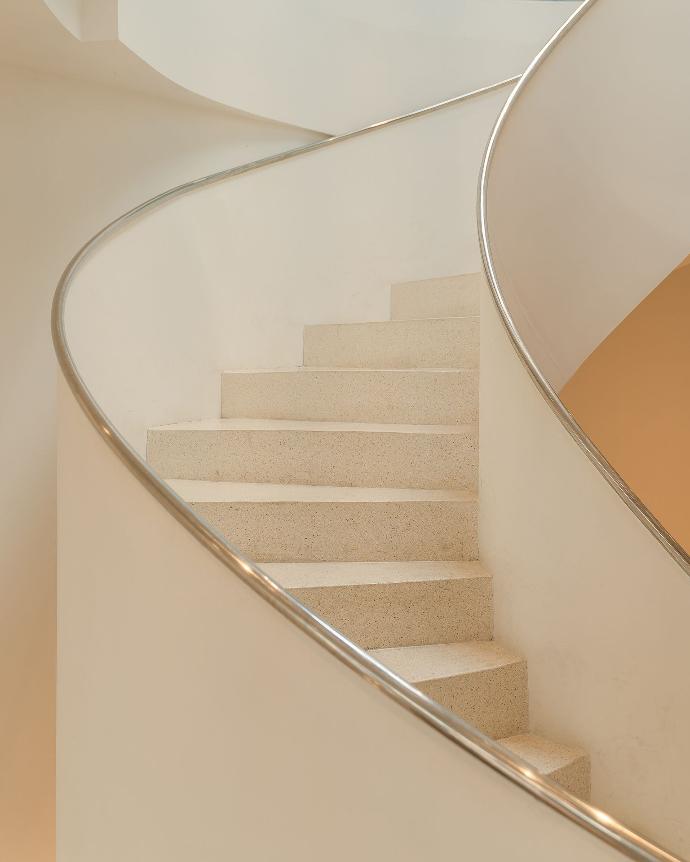 Ovoms, a prominent UK staircase company, brings you a comprehensive service package that includes site survey, design, fabrication, and installation. In our extensive product line, one of the standout options is the curved staircase, which we'll be focusing on in this context.
A curved staircase, also known as a helical or spiral staircase, is an embodiment of elegance and architectural innovation. These staircases, with their graceful arcs and continuous lines, not only provide a practical solution for vertical movement but also enhance the aesthetic appeal of any interior. Often seen as an epitome of luxury, a well-designed curved staircase can be a statement piece in any residential or commercial space.
Renowned for their dramatic, sweeping curves, these staircases are an excellent choice for those who wish to elevate the style quotient of their properties. A key advantage of a curved staircase is its versatility. It's equally at home in a modern, minimalist setting as it is in a more traditional or classic environment. Beyond being merely a functional feature, a curved staircase, with its inherent architectural beauty, serves as a striking design element that can transform spaces and dictate the room's entire mood and atmosphere.
By choosing Ovoms for your curved staircase, you can rest assured that you're partnering with a company that's consistently ranked high in the UK staircase industry. We make it our mission to provide only the best and most professional services, with a strong focus on customer satisfaction and quality of work. So, when you think 'curved staircases', think Ovoms - your trusted partner in bringing architectural beauty to your doorstep.
In the realm of interior design, curved staircases are considered a timeless element, serving as a bridge between functionality and aesthetics. Not only do they offer a seamless transition between floors, but they also add a sense of grandeur and sophistication to your interiors. Here, at Ovoms, we believe that every staircase should be more than a functional element, and our meticulously designed curved staircases are a testament to that philosophy.
Curved staircases by Ovoms are engineered with precision to ensure structural integrity and safety. They offer a flowing, gentle ascent, which can be ideal for homes with children or the elderly. The continuity of a curved staircase's form is appealing to the eye, effortlessly leading one's gaze from the bottom to the top. In open-plan spaces, they act as a visual anchor, adding structure and character to the layout.
An extensive range of materials can be used to design curved staircases, allowing for a bespoke creation that fits seamlessly with your interior design theme. From rich, warm woods like oak or mahogany to sleek, modern metals or glass, the choice is limitless. We can design your curved staircase to be a centrepiece that sets the tone for your entire space, or it can blend quietly with the background, enhancing the overall design scheme.
At Ovoms, we take pride in our ability to incorporate intricate details into our curved staircases. The stair treads can be designed in a variety of styles, and the balustrade options range from glass to wrought iron, to hand-carved wood. We ensure every single detail, no matter how small, contributes to the overall aesthetic and structural integrity of your curved staircase.
Moreover, our curved staircases are easy to install, a feature that has earned us significant recognition in the UK staircase industry. Our professional installation team ensures a quick and efficient set-up, causing minimal disruption to your daily routine.
At Ovoms, we are committed to providing a personal touch to every project, ensuring our curved staircases perfectly align with your specific needs and tastes. Your journey with us begins with a comprehensive site survey, followed by expert design guidance, top-notch fabrication, and finally, a professional installation. Our dedicated team ensures your curved staircase not only enhances the beauty of your space but also stands the test of time.
Curved staircases are much more than a structural necessity – they're an artistic statement. They're a celebration of creativity and craftsmanship, and with Ovoms, you'll find a dedicated partner to help you bring your vision to life. We invite you to experience the elegance and sophistication of curved staircases and discover why they remain a favoured choice among homeowners and interior designers in the UK.
Artistic Appeal



Curved staircases are a magnificent architectural feature that adds a touch of elegance and sophistication to any property. They serve as an eye-catching centrepiece, gracefully curving upwards and often being the first thing visitors notice upon entering a home.

Versatility in Design

The design options for curved staircases are limitless. From the choice of materials like wood, metal or glass, to a multitude of railing and tread options, curved staircases can be customised to perfectly match the aesthetic of any interior design theme.

Space Optimization

Curved staircases are often perceived as more spacious due to their wider radius. They are an excellent option for open-plan living spaces or large foyers, as they help to utilise space efficiently while enhancing the room's visual appeal.

Safe & Comfortable

With their wide treads and gradual ascent, curved staircases provide a safer and more comfortable way to traverse between floors. This makes them an ideal choice for homes with children, elderly residents, or individuals with mobility issues.

Ovoms is not just about curved staircases. We are a comprehensive online staircase shop that caters to a wide range of needs, tastes, and budgets. From floating staircases to central spine, zigzag, closed treads, and more, we have a broad array of staircase types to suit every home and commercial space.
Starting at just £5999, you can easily navigate our online platform, select your preferred staircase design, customise it to your specific needs, and place your order. You can then leave it to us to meticulously craft your staircase and deliver it straight to your doorstep, ready for installation.
Our coverage extends across the entirety of the UK, servicing a wide array of cities including London, Birmingham, Manchester, Leeds, Glasgow, Liverpool, Newcastle, Sheffield, Bristol, Edinburgh, Leicester, Coventry, Nottingham, Cardiff, Southampton, Bournemouth, Norwich, Aberdeen, Oxford, Cambridge, and many more. You can opt for self-installation or engage local professionals in your city to help with the set-up.
At Ovoms, our goal is to make beautiful, bespoke staircase designs accessible and affordable to a broader market. We are dedicated to transforming your properties and creating stunning, functional spaces that you'll love. So, why wait? Start your staircase journey with us today!