Central Spine Staircase
£ 6,999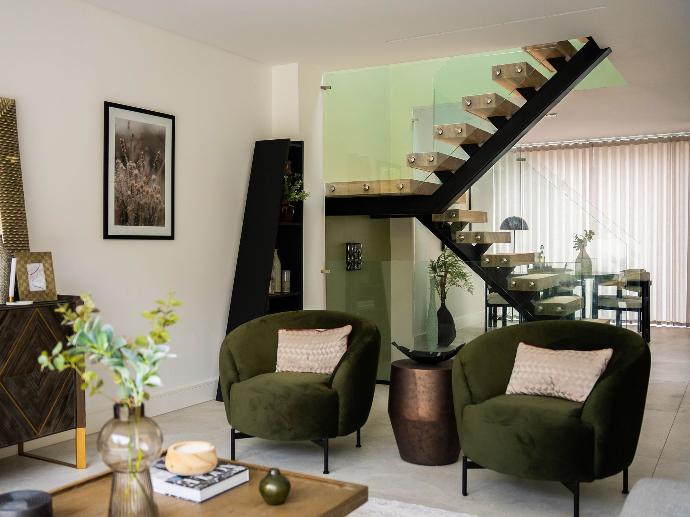 Discover a new standard in staircase design with Ovoms, the UK's leading staircase company. We specialise in comprehensive solutions, providing everything from inspired design and accurate site surveying to masterful fabrication and expert installation.
Step into the world of our best-selling Central Spine Staircase, a seamless blend of aesthetics, durability, and cutting-edge engineering. More than just a passageway between floors, it's an architectural marvel that commands attention and becomes the centrepiece of any space.
Each Central Spine Staircase showcases an innovative 'spine' supporting the entire structure, providing exceptional load-bearing capacity. This design imparts a sense of minimalist elegance and openness that can instantly elevate the aesthetic of any room.
Choosing Ovoms' Central Spine Staircases means choosing a functional masterpiece that combines bold visual appeal with technical precision. Experience the Ovoms difference, where innovative design is perfectly fused with impeccable craftsmanship.
Stunning Design Appeal

The Central Spine Staircase isn't just a functional fixture; it's a striking design element. The sleek, linear central spine gives the staircase a minimalistic yet impressive appearance that turns it into a true conversation starter. Perfect for modern and contemporary interiors, it adds an architectural focal point to your space.

Space-Saving Innovation

Due to its single spine design, a Central Spine Staircase is an excellent choice for those seeking to maximise their floor space. The design offers an unobstructed view, enhancing the sense of openness and making the area appear larger. It's an optimal solution for compact homes or offices without compromising on style.

Structural Integrity & Durability

With its robust central support, the Central Spine Staircase offers superior load-bearing capabilities. Constructed from high-quality materials and fabricated with precision, it promises strength, durability, and stability for years to come.

Customisable Options

At Ovoms, we understand the importance of personal touch in design. Our Central Spine Staircases come with a variety of customisable options. Choose from a wide range of materials, finishes, and railing styles to create a staircase that perfectly aligns with your aesthetic preferences and interior décor.

Design Your Perfect Central Spine Staircase with Ovoms Online
Crafting your unique Central Spine Staircase has never been easier or more accessible. At Ovoms, we offer a seamless online shopping experience, allowing you to fully customise your staircase and see your dream design come to life. Starting at £6,999, you can personalise every detail to suit your space and style.
First, select the Central Spine model from our range of options, including the Floating, Zigzag, and Closed Treads staircases. Then, determine the shape that best complements your interior, choosing from straight, 1-turn, or 2-turn designs.
Finally, decide who will handle the installation. Rely on our team of experienced professionals for a fuss-free installation or opt to manage the installation yourself - the choice is yours.
We're proud to serve customers across the entire UK, delivering high-quality, bespoke staircases that redefine spaces. With Ovoms, your perfect Central Spine Staircase is just a few clicks away. Begin your design journey with us today.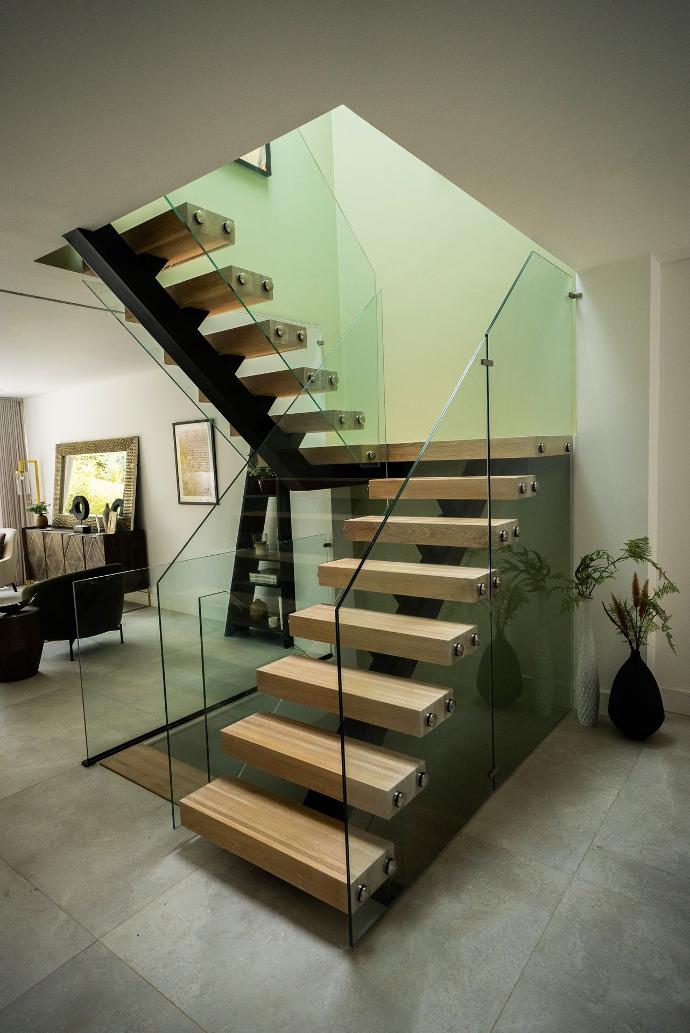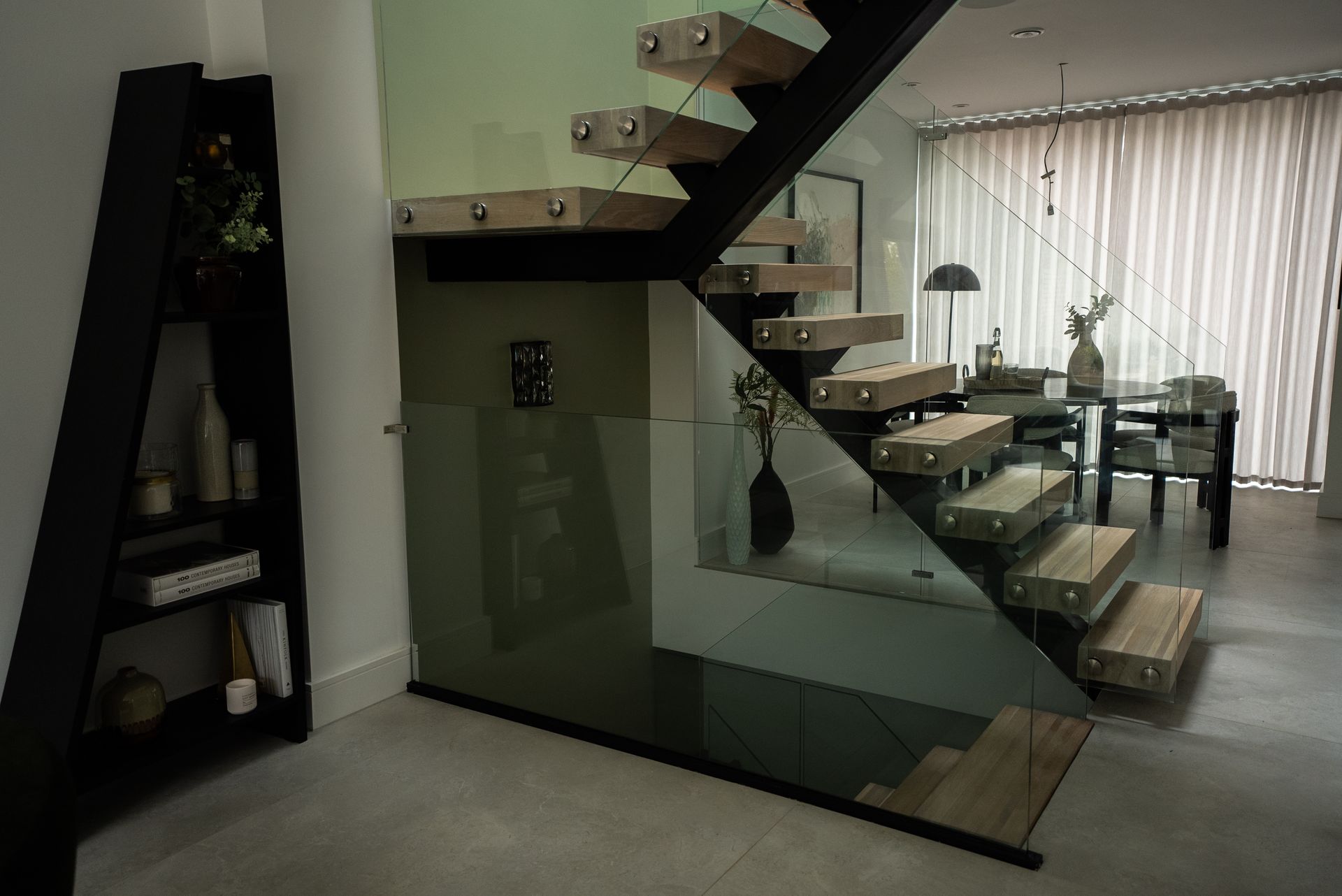 Explore the Art of Staircase Design in Our Portfolio
Uncover the possibilities of staircase design by delving into our portfolio. A curated showcase of our finest work, our portfolio provides a window into the exceptional craftsmanship and design versatility of Ovoms. Witness the elegance of our Central Spine Staircases and gain a sense of the transformative impact they could have on your own space.
As you browse, note the variety of high-quality materials we use - from the sleek strength of steel to the organic warmth of wood and the modern edge of glass. Each image captures the meticulous attention to detail and superior craftsmanship that goes into every Ovoms staircase.
Envision how these designs could integrate into your interiors, serving not just as functional structures but as architectural masterpieces. Gain inspiration and discover how your space could be enhanced by an Ovoms staircase. Take the first step towards realising your dream staircase today by exploring our portfolio.